Discover more from The Midwest Creative
A newsletter that explores how to live a sustainable, fulfilling creative life in the Midwest.
My wedding photographer sent me sneak peaks of my wedding photos from this past weekend.
I was in the middle of a sentence while talking to my husband when I saw the email and gasped (Matt, if you're reading this, sorry for not paying close attention to our conversation LOL). I immediately started flipping through the photos. The warm tones, unabashed joy in every smile, candid shots of us in real time remembering that, holy shit, we're married now! I couldn't get enough.
The Midwest Creative is a reader-supported publication. To receive new posts and support my work, consider becoming a free or paid subscriber.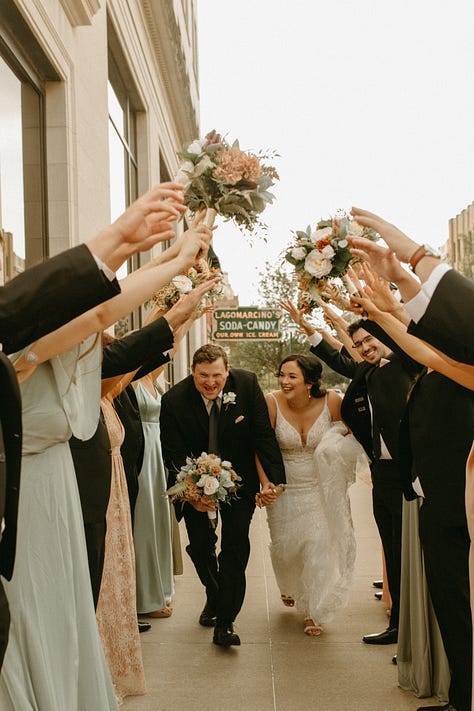 I stopped at the picture of our first kiss. I can still feel the smile creep up on my lips as I realized we had finally arrived at the moment. My brother's voice slowly fell away at that point. I looked at the person I love most in the world, the person who not only completes me but goes even deeper, completes the vision I have of what the world can be.
A person at the edge of that photo caught my eye. My best friend, Krysten, who has been in my life since I was 4 years old. She is my absolute, the person that knows me to my core, the perfect ideal of a best friend. My person. She stands behind me as my maid of honor. She's holding my bouquet. Her blonde hair is curled into the cutest half-up do. And she is smiling at us with such sincere delight and unabashed elation that I am overwhelmed each time I see the photo. In that moment, her love for us is every bit as palpable as the love we have for each other.
It is so easy to be a cynic. I see it on Twitter each and every day (yes I'm still there, and yes I will call it Twitter until the day it dies) — the harmful opinions, the lack of nuance, the instinct to assume negative intentions, the lack of consequences for bigotry. I am sad about the bad ways people treat each other, but I'm even more sad about how often people ignore the good ways we treat each other, too.
But last weekend, I had 180 people look at Matthew and me with love and kindness in the way Krysten is in this photo (but not as much as you do, Krys — I know you love me the most), and I was reminded of the intentional ways Matthew and I have found joy and support in our lives.
From our parents friends who have watched us grow our entire lives.
From the coworkers we have spent years working alongside.
From our friends we have known since elementary school.
From our families who have given us more than we could have ever hoped for.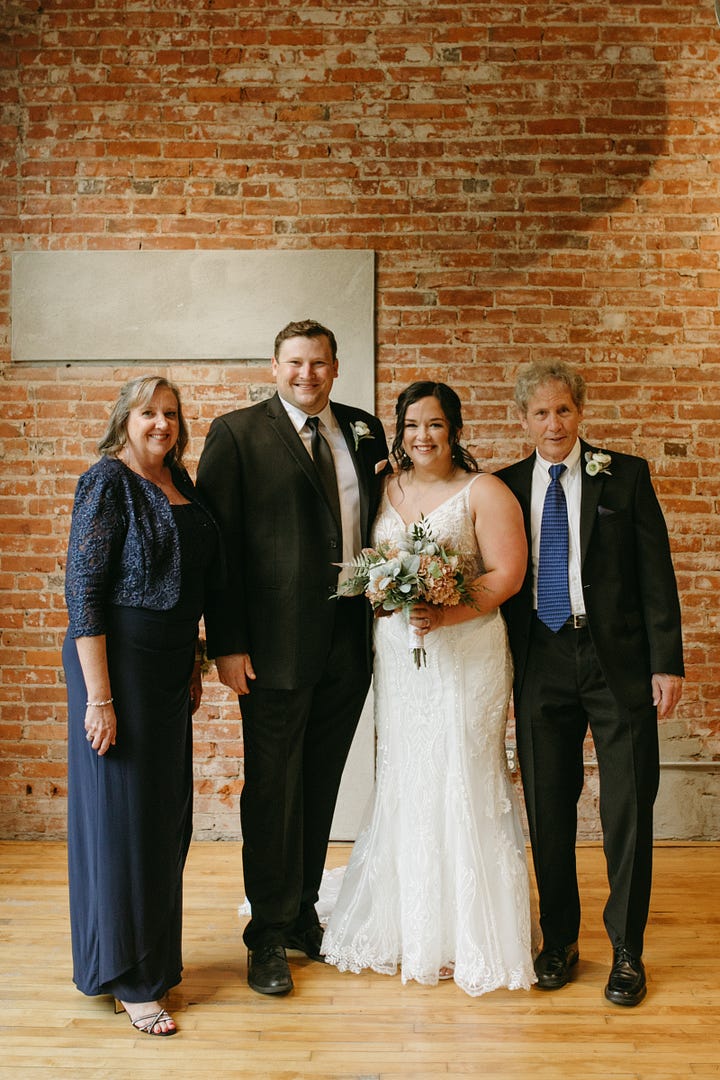 From the incredible women who have made me feel safe, supported, and loved at so many different points in my life, and have loved Matt right from the start.
From the men who love Matt for the kind, joyful man he is and show him love in all kinds of ways, and who never care (much) when I crash boys night.
From the camp friends who all traveled so far to celebrate with us, who have helped us through every high and low (literally) of living with a chronic illness and brought so much love and laughter into our lives.
From every person who walked into The University Club that night, who smiled with us and danced with us and cheered on Matt's karaoke, who have shown up for us throughout our lives and given us unconditional love. From the people who have known us since babies and the people who came into our lives recently. From the people we've toasted to and the people no longer with us, and every single person who lost themselves in the music with us on the happiest night of our lives.
Our lives and our hearts are so incredibly full.
I hope you can think of one person, one pet, even one favorite activity or one book that's changed your life, that helps you feel the happy in the air.
It's all out there if you choose to see it.
With love,
Macey SHOFROTH (Pronounced Show-Froth, my sister and brother both had to ask me the day before the wedding LOL)
---
The Midwest Creative is a proud member of the Iowa Writers Collaborative. Please consider a subscription to my colleagues' work to support storytelling across the state of Iowa. All of these authors provide content for free, with paid subscription options. Pick one or more, and help sustain this movement.
Iowa Writers' Collaborative, 
Roundup
Nik Heftman: 
The Seven Times
, Los Angeles and Iowa
Beth Hoffman: 
In the Dirt
, Lovilla
Kurt Meyer: 
Showing Up
, St. Ansgar
Mary Swander: Mary Swander's 
Emerging Voices
, Kalona
Teresa Zilk: 
Talking Good
, Des Moines
The Iowa Writers Collaborative is also proud to ally with 
Iowa Capital Dispatch
.
The Midwest Creative is a reader-supported publication. To receive new posts and support my work, consider becoming a free or paid subscriber.